Many PATCA members are also members of other professional organizations, often for their various specialties.  We are proud to work side by side with them to help promote our member services, and to help clients find the correct consultants for their needs.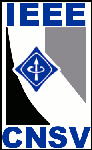 IEEE-CNSV (Consultants' Network of Silicon Valley), the Silicon Valley chapter of the IEEE Consultants' Networks, has a membership of over 200 engineers.  Members' skill profiles can be found by visitors to its website or by popular search engines. CNSV sponsors monthly meetings and periodic seminar/webinar events that cover technical topics as well as issues related to consulting. CNSV was recognized as the 2015 Best Chapter in IEEE Region 6, which encompasses the 10 western US states.  IEEE membership is not required for membership in CNSV.
---

Women In Consulting (WIC)® is a collaborative community of consultants and small businessowners working together to build strong businesses. WIC is a premier resource for businesses seeking industry experts to deliver high-quality results.  Their main focus is on professional support, education, growth and development. Established in 1998, WIC is headquartered in the San Francisco California Bay Area and has members throughout the country.