Oak Valley Development, LLC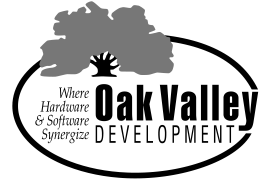 Work Phone:
(408) 718-1070
patca@oakvalley.com
http://www.oakvalley.com
LinkedIn Profile


Hardware and Software Consulting Group
Design and development of hardware and software for consumer electronics, communications, instrumentation, medical systems, control systems, and test equipment.

Digital Signal Processing
Hardware and software integration
Embedded measurement and control
Analog circuit design
Mathematics
Stochastic processes
Statistical analysis
Dynamic simulations
Robotics
Data communications
Device drivers
Minimum cost product designs

Oak Valley Development was founded on April 1st, 1996. Over the years we have been able to maintain low overhead so that we can provide quality engineering at a reasonable price.

Oak Valley Development is an approved third party consultant for Texas Instruments DSPs and Microchip PIC microcontrollers.

Education and Background:
MSEE & BSEE UC Berkeley concurrently in four years.