EIMEX Inc.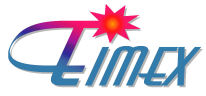 107 Siebe Drive
Suisun City CA, 94534-1523
Work Phone:
707-416-0376
deimerl@eimexinc.com
http://www.eimexinc.com

Physicist, Laser/EO & Computer Simulation
Breakthrough consulting services in laser and optics technologies at the interface of physics, engineering and computer science. Areas of expertise include laser systems, laser science and optical technology and laser-materials interactions; custom modeling and code development; and expert witness consulting.

Clients include technology companies, academic research institutions and government agencies in a broad range of high technology fields, including Wafer Processing and Inspection, Telcom Sources, Laser Medicine and Laser Fusion.

Former Chief Scientist/Laser Science and Technology, Lawrence Livermore National Laboratory
30+ years experience developing software applications for complex laser and optical devices
Three patents in glass laser technologies
130 research papers published in peer-reviewed physics, engineering and computer science journals
Expert witness in intellectual property protection, patent infringement, patent prosecution, and technical analysis.

The Eimex team of seasoned specialists combines experience in both academic and commercial environments to:

Diagnose the functional challenges of laser and optics technology products
Design and deliver customized solutions
Predict and prioritize outcomes
Help clients select the appropriate course of action.